Big City Adventure: Vancouver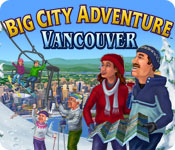 Download Big City Adventure: Vancouver
Absolutely FREE (55.4 Mb)
7.4
Estimate this game
Thanks for your mark!
You already voted for this game
Thankyou for the comment!
After check it will be shown under the description.
You already comment this game.
Big City Adventure: Vancouver Comments and recomendations.
February 25, 2014, 2:48 pm, shubham kumar - "very good exellent"
February 22, 2014, 5:33 am, rosa - "espero gosta deste jogo"
February 17, 2014, 8:31 pm, Josiah - "It is a good game"
Big City Adventure: Vancouver System Requirements
IE 7 or higher, FireFox, Chrome, Opera
Windows XP/Vista/7/8
600 Mhz CPU
256 Mb RAM
7.0 direct X
63 Mb HDD
Big City Adventure: Vancouver Categories
Big City Adventure: Vancouver
It's time to head north on your next Big City Adventure! Search for thousands of cleverly hidden items around stunningly beautiful Vancouver, Canada. Discover fascinating and obscure facts about Vancouver and its history. Experience awesome Hidden Object scenes in Vancity! Travel across the city and earn cool mementos from the amazing scenes you'll visit while you have tons of Hidden Object and minigames fun! ...
All copyrights of games belongs to the Bigfishgames company. We provide the opportunity to download and play games, estimate and comment, also to play online games on our site. All trademarks belongs to their owners.
Puzzle - Download Top Casual Games