Blue Madonna: A Carol Reed Story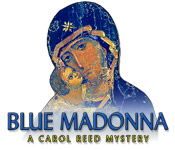 Download Blue Madonna: A Carol Reed Story
Absolutely FREE (452.4 Mb)
0
Estimate this game
Thanks for your mark!
You already voted for this game
Thankyou for the comment!
After check it will be shown under the description.
You already comment this game.
Blue Madonna: A Carol Reed Story Comments and recomendations.
Blue Madonna: A Carol Reed Story System Requirements
IE 7 or higher, FireFox, Chrome, Opera
Windows XP/Vista/8
1.0 GHz CPU
128 Mb RAM
9.0 direct X
490 Mb HDD
Blue Madonna: A Carol Reed Story Categories
Blue Madonna: A Carol Reed Story
With a dead client, Carol hasn't even got a case. And with so little information, she hasn't got any clues either. But the last thing that Christina did was to ask for Carol's help, so Carol figures that the least she could do is look into it. And when she uncovers several curious circumstances leading up to Christina's death, Carol just can't let it go. Solve a 600 year old mystery in this gripping Adventure game! ...
All copyrights of games belongs to the Bigfishgames company. We provide the opportunity to download and play games, estimate and comment, also to play online games on our site. All trademarks belongs to their owners.
Puzzle - Download Top Casual Games