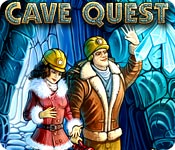 Download Cave Quest
Absolutely FREE (86.2 Mb)
7.6
Estimate this game
Thanks for your mark!
You already voted for this game
Thankyou for the comment!
After check it will be shown under the description.
You already comment this game.
Cave Quest Comments and recomendations.
December 6, 2013, 12:52 am, jucelene - "Legal..."
December 3, 2013, 12:33 pm, MANTHAN MISHRA - "This is a excellent game"
October 27, 2013, 11:30 pm, anna - " Legal"
Cave Quest System Requirements
IE 7 or higher, FireFox, Chrome, Opera
Windows XP/Vista/8
1.0 GHz CPU
512 Mb RAM
8.0 direct X
94 Mb HDD
Cave Quest Categories
Cave Quest
The evil spirits that haunt the narrow trails of a mountain have been trapping travelers, and have captured your family! Trapped in a labyrinth of caves, it's up to you to go spelunking and save the people from certain doom! Unravel the mystery of the Ghost King and save your family in Cave Quest, a fast-paced and exciting Match 3 game! ...
All copyrights of games belongs to the Bigfishgames company. We provide the opportunity to download and play games, estimate and comment, also to play online games on our site. All trademarks belongs to their owners.
Match 3 - Download Top Casual Games