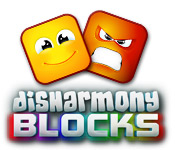 Download Disharmony Blocks
Absolutely FREE (33.2 Mb)
8
Estimate this game
Thanks for your mark!
You already voted for this game
Thankyou for the comment!
After check it will be shown under the description.
You already comment this game.
Disharmony Blocks Comments and recomendations.
December 8, 2013, 4:05 pm, Joel - "Best"
October 18, 2013, 12:36 am, ruan - "eu baixei mas não abrio"
October 15, 2013, 1:04 am, Edson - "Jogo muito bom"
October 13, 2013, 1:46 pm, naman - "awesome"
September 18, 2013, 11:36 pm, ammu - "ok"
Disharmony Blocks System Requirements
IE 7 or higher, FireFox, Chrome, Opera
Windows XP/Windows Vista/Windows 7/8
1.0 GHz CPU
1024 Mb RAM
9.0 direct X
36 Mb HDD
Disharmony Blocks Categories
Disharmony Blocks
Match your way to Harmony in the exciting Match 3 game, Disharmony Blocks! Journey to the land of Fangorn, where emotions exist as real sentient beings. As an apprentice Harmony Sage you must travel the land and restore order and harmony in a world of disharmony. Gather your strength and unleash powerful emotional outbursts to help you in your quest to become a master Harmony Sage. ...
All copyrights of games belongs to the Bigfishgames company. We provide the opportunity to download and play games, estimate and comment, also to play online games on our site. All trademarks belongs to their owners.
Match 3 - Download Top Casual Games