Charlaine Harris: Dying for Daylight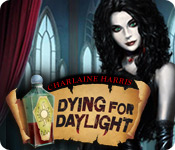 Download Charlaine Harris: Dying for Daylight
Absolutely FREE (233.4 Mb)
0
Estimate this game
Thanks for your mark!
You already voted for this game
Thankyou for the comment!
After check it will be shown under the description.
You already comment this game.
Charlaine Harris: Dying for Daylight Comments and recomendations.
Charlaine Harris: Dying for Daylight System Requirements
IE 7 or higher, FireFox, Chrome, Opera
Windows XP/Vista/8
1.0 GHz CPU
1024 Mb RAM
9.0 direct X
280 Mb HDD
Charlaine Harris: Dying for Daylight Categories
Charlaine Harris: Dying for Daylight
Enter a vampire world as Dahlia, a vampire with a fantastic sense of fashion and a razor-sharp wit! Go on an epic hunt to find the legendary sun potion in Dying for Daylight. As vampires have been productive and ultimately accepted into society, their ancient vulnerability remains true – they can only emerge at night. When rumors circulate that a legendary potion exists allowing vampires to walk amid the daylight, Dahlia jumps at the chance to further investigate in this fun Hidden Object game. ...
All copyrights of games belongs to the Bigfishgames company. We provide the opportunity to download and play games, estimate and comment, also to play online games on our site. All trademarks belongs to their owners.
Puzzle - Download Top Casual Games