Farm Frenzy 3: American Pie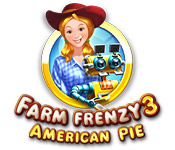 Download Farm Frenzy 3: American Pie
Absolutely FREE (73.9 Mb)
8.2
Estimate this game
Thanks for your mark!
You already voted for this game
Thankyou for the comment!
After check it will be shown under the description.
You already comment this game.
Farm Frenzy 3: American Pie Comments and recomendations.
October 17, 2014, 9:09 pm, gabriel - "ferriferri"
April 18, 2014, 9:37 pm, Emmanuel - "muito bom"
April 14, 2014, 3:19 pm, Wagner está partilhando 300 moedas! - "muito legal"
March 22, 2014, 8:47 am, kyawkoko - "good game"
January 28, 2014, 8:56 pm, Rauf - "Super"
January 20, 2014, 3:16 am, ana julia - "gosto muito desse jogo "
January 16, 2014, 5:16 pm, larissa - "É bom jogar jogos"
January 6, 2014, 12:00 am, erik - "Gostei"
January 5, 2014, 11:24 pm, Mauricio simoes - "eu quero a baixa jogos"
January 2, 2014, 12:49 am, jobson - "gostei muuuuuuuuuuuuuuuito"
Farm Frenzy 3: American Pie System Requirements
IE 7 or higher, FireFox, Chrome, Opera
Windows XP/Vista/7/8
1.0 GHz CPU
256 Mb RAM
8.0 direct X
79 Mb HDD
Farm Frenzy 3: American Pie Categories
Farm Frenzy 3: American Pie
Join Scarlett, the feisty star of Farm Frenzy 3, as she puts robots to work on her land in this Time Management game. Can you keep up with the latest advancements in technology as you grow crops, feed animals, collect produce and manufacture goods? Of course you can! Just don't let the zany new animations distract you from the task at hand. Featuring all-new levels packed with never-before-seen characters, buildings and challenges, Farm Frenzy 3: American Pie promises a bumper crop of fun! ...
All copyrights of games belongs to the Bigfishgames company. We provide the opportunity to download and play games, estimate and comment, also to play online games on our site. All trademarks belongs to their owners.
Arcade & Action - Download Top Casual Games