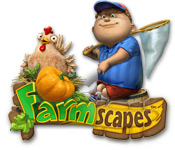 Download Farmscapes
Absolutely FREE (197.4 Mb)
2
Estimate this game
Thanks for your mark!
You already voted for this game
Thankyou for the comment!
After check it will be shown under the description.
You already comment this game.
Farmscapes Comments and recomendations.
November 7, 2013, 10:38 pm, lidia duque fialho - "adorei"
Farmscapes System Requirements
IE 7 or higher, FireFox, Chrome, Opera
Windows XP/Windows Vista/Windows 7/Windows 8
1.6 GHz CPU
1024 Mb RAM
8.0 direct X
402 Mb HDD
Farmscapes Categories
Farmscapes
Help Joe restore his ranch! Breathe in new life into a formerly prosperous farm in Farmscapes, a fun Match 3 game! Earn money by selling fresh veggies, juicy fruits, eggs, flowers, and honey from his old farm to the townspeople, and spend it on restoring the landholding back to its grandeur and beauty. No need to make this lawn story short - indulge yourself in sun, color and blue summer skies! ...
All copyrights of games belongs to the Bigfishgames company. We provide the opportunity to download and play games, estimate and comment, also to play online games on our site. All trademarks belongs to their owners.
Puzzle - Download Top Casual Games