Mystery Agency: A Vampire's Kiss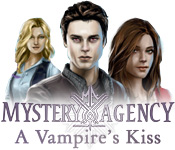 Download Mystery Agency: A Vampire's Kiss
Absolutely FREE (69.1 Mb)
6.7
Estimate this game
Thanks for your mark!
You already voted for this game
Thankyou for the comment!
After check it will be shown under the description.
You already comment this game.
Mystery Agency: A Vampire's Kiss Comments and recomendations.
December 4, 2013, 10:43 am, sriram - "Super game"
October 24, 2013, 6:58 pm, vishal - "this was a good storey"
July 28, 2013, 5:24 pm, aladdin - "cooool"
July 4, 2013, 10:47 pm, leiliane - "leila@hotmail.com"
Mystery Agency: A Vampire's Kiss System Requirements
IE 7 or higher, FireFox, Chrome, Opera
Windows XP/Vista/8
1.6 GHz CPU
1536 Mb RAM
9.0 direct X
271 Mb HDD
Mystery Agency: A Vampire's Kiss Categories
Mystery Agency: A Vampire's Kiss
Help Sarah find her missing friend, who was taken away by a dark being in the middle of the night, in this Hidden Object game! Sarah seeks the help of the private detective Mystery Agency to find Emilia, and investigate the person responsible for her disappearance. Dive into a dark atmosphere in Mystery Agency – A Vampire's Kiss and help save Sarah's friend before time runs out and it's too late! ...
All copyrights of games belongs to the Bigfishgames company. We provide the opportunity to download and play games, estimate and comment, also to play online games on our site. All trademarks belongs to their owners.
Hidden Object - Download Top Casual Games