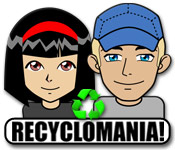 Download Recyclomania
Absolutely FREE (48.8 Mb)
0
Estimate this game
Thanks for your mark!
You already voted for this game
Thankyou for the comment!
After check it will be shown under the description.
You already comment this game.
Recyclomania Comments and recomendations.
Recyclomania System Requirements
IE 7 or higher, FireFox, Chrome, Opera
Windows XP/Vista/8
1.0 GHz CPU
256 Mb RAM
7.0 direct X
58 Mb HDD
Recyclomania Categories
Recyclomania
Do you suffer from Recyclomania?! Build your own recycling plants and become a recycling master in this incredible Match 3 game! Katie and her environmentally aware friends Joey, Emi and Steve are truly resolved to keep on recycling until they build recycling plants for all types of recyclable waste. Start off collecting glass, metal, paper, and plastic waste to win new products that help you cure your Recyclomania! ...
All copyrights of games belongs to the Bigfishgames company. We provide the opportunity to download and play games, estimate and comment, also to play online games on our site. All trademarks belongs to their owners.
Match 3 - Download Top Casual Games