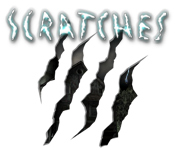 Download Scratches Director's Cut
Absolutely FREE (913.8 Mb)
0
Estimate this game
Thanks for your mark!
You already voted for this game
Thankyou for the comment!
After check it will be shown under the description.
You already comment this game.
Scratches Director's Cut Comments and recomendations.
Scratches Director's Cut System Requirements
IE 7 or higher, FireFox, Chrome, Opera
Windows XP/Vista/8
1.0 GHz CPU
256 Mb RAM
9.0 direct X
1000 Mb HDD
Scratches Director's Cut Categories
Scratches Director's Cut
Help writer Michael Arthate explore the legendary Blackwood house! Follow mysteries through the house and dive into secrets of the past! As he is drawn deeper into the story, his sleep is shattered by mysterious noises, and he is plagued by nightmares that cross into reality. Whose shadows lurk in the dark corners? Is that lonely house inhabited by restless spirits of the past or something more sinister? Find out in Scratches, a dark Adventure game! ...
All copyrights of games belongs to the Bigfishgames company. We provide the opportunity to download and play games, estimate and comment, also to play online games on our site. All trademarks belongs to their owners.
Adventure - Download Top Casual Games