Super Yum Yum Puzzle Adventures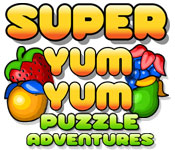 Download Super Yum Yum Puzzle Adventures
Absolutely FREE (22 Mb)
0
Estimate this game
Thanks for your mark!
You already voted for this game
Thankyou for the comment!
After check it will be shown under the description.
You already comment this game.
Super Yum Yum Puzzle Adventures Comments and recomendations.
Super Yum Yum Puzzle Adventures System Requirements
IE 7 or higher, FireFox, Chrome, Opera
Windows XP/Vista/8
600 Mhz CPU
256 Mb RAM
7.0 direct X
93 Mb HDD
Super Yum Yum Puzzle Adventures Categories
Super Yum Yum Puzzle Adventures
A fruit monster has run off with your juicy fruit and kidnapped your babies! Help Leon the chameleon chase Ms. Tum Tum in Super Yum Yum: Puzzle Adventures. Eat fruit, change your color, and lick your babies to make them follow you in this fast-paced and exciting Puzzle game. Solve each challenging level and get back Leon's goodies! ...
All copyrights of games belongs to the Bigfishgames company. We provide the opportunity to download and play games, estimate and comment, also to play online games on our site. All trademarks belongs to their owners.
Arcade & Action - Download Top Casual Games