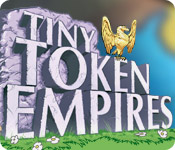 Download Tiny Token Empires
Absolutely FREE (75.4 Mb)
8
Estimate this game
Thanks for your mark!
You already voted for this game
Thankyou for the comment!
After check it will be shown under the description.
You already comment this game.
Tiny Token Empires Comments and recomendations.
October 15, 2013, 1:07 am, Edson - "Otimo jogo"
Tiny Token Empires System Requirements
IE 7 or higher, FireFox, Chrome, Opera
Windows XP/Windows Vista/Windows 7/Windows 8
2.0 GHz CPU
1024 Mb RAM
9.0 direct X
258 Mb HDD
Tiny Token Empires Categories
Tiny Token Empires
Tiny Token Empires offers a hilariously unique mix between Match3 and turn-based strategy game styles. You will play as one of the five major ancient empires: Rome, Greece, Egypt, Persia, or Carthage. By developing cities, training armies and annexing new territories, you will gradually expand your power over the world! Wisely utilize special tokens in each battle, explore locations ridden with treasures and special items, and obtain super powers for your heroes or generals! Have a blast and laugh along with this crazy, comical universe as you discover goofball gods, super cute mythological monsters, clown legionnaires, and much more. Play your way through five campaigns, or skip directly to the free mode that allows you to choose your enemies and conditions of victory! ...
All copyrights of games belongs to the Bigfishgames company. We provide the opportunity to download and play games, estimate and comment, also to play online games on our site. All trademarks belongs to their owners.
Match 3 - Download Top Casual Games