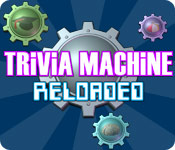 Download Trivia Machine Reloaded
Absolutely FREE (21.1 Mb)
8.1
Estimate this game
Thanks for your mark!
You already voted for this game
Thankyou for the comment!
After check it will be shown under the description.
You already comment this game.
Trivia Machine Reloaded Comments and recomendations.
March 23, 2014, 7:46 pm, ji - "good"
January 31, 2014, 11:29 pm, Josh - "Very good"
Trivia Machine Reloaded System Requirements
IE 7 or higher, FireFox, Chrome, Opera
Windows XP/Windows Vista/Windows 7/Windows 8
600 Mhz CPU
1024 Mb RAM
9.0 direct X
28 Mb HDD
Trivia Machine Reloaded Categories
Trivia Machine Reloaded
Trivia Machine Reloaded features thousands of trivia questions across nine fun categories including TV, Movies, and more. With questions ranging from easy to expert in each round, it's the perfect game for trivia players of all levels! You'll use strategy and trivia knowledge to work your way up the trivia ladder so get ready to show what you know! ...
All copyrights of games belongs to the Bigfishgames company. We provide the opportunity to download and play games, estimate and comment, also to play online games on our site. All trademarks belongs to their owners.
Card & Board - Download Top Casual Games