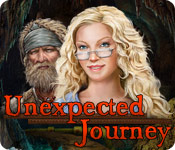 Download Unexpected Journey
Absolutely FREE (96 Mb)
9.5
Estimate this game
Thanks for your mark!
You already voted for this game
Thankyou for the comment!
After check it will be shown under the description.
You already comment this game.
Unexpected Journey Comments and recomendations.
July 20, 2014, 3:03 am, cl - "bom "
Unexpected Journey System Requirements
IE 7 or higher, FireFox, Chrome, Opera
Windows XP/Vista/7/8
1.0 GHz CPU
256 Mb RAM
9.0 direct X
124 Mb HDD
Unexpected Journey Categories
Unexpected Journey
Young journalist Lina Woodberry has set out on a new mission, one that promises to be exciting and adventurous! The one thing she looks forward to is meeting all the famous people from the arts and culture world who are on the approaching cruise ship. Get caught up in a spiralling whirlpool of unpredictable events. Go on a dangerous cruise and you will be rewarded with a truly unforgettable trip in Unexpected Journey, a fun Hidden Object game. ...
All copyrights of games belongs to the Bigfishgames company. We provide the opportunity to download and play games, estimate and comment, also to play online games on our site. All trademarks belongs to their owners.
Puzzle - Download Top Casual Games