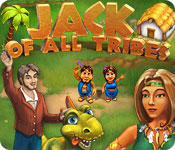 Play Online Jack of All Tribes
Absolutely FREE
10
Estimate this game
Thanks for your mark!
You already voted for this game
Thankyou for the comment!
After check it will be shown under the description.
You already comment this game.
Jack of All Tribes Comments and recomendations.
Jack of All Tribes Categories
Jack of All Tribes
Help Jack travel to the past and rule a primitive tribe in Jack of all Tribes, a fun Time Management game! Search for artifacts from the future that Jack needs to return to his own time. Free the tribe from the oppressive domination of the Dumbheads and fulfill Jack's destiny. Introduce new technology to the tribe with help from the chief's beautiful daughter and make your way home!
Time Management - Online Top Casual Games